Worker's Compensation insurance provides wage and medical benefits to individuals who are injured or become ill at work. It is paid for and provided by business owners to protect their employees and the employers in the event that an accident or illness should arise while on the job. Each state has its own rules and regulations that employers must follow to insure the proper coverage for employees. The benefits can include medical care, indemnity to wage benefits, vocational rehabilitation services and/or death benefits.
Why Fight This Alone?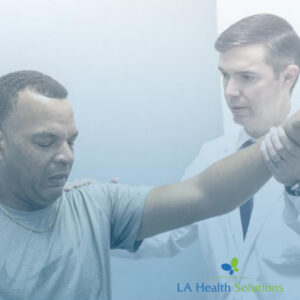 The LA Health Solutions staff gives you the care you need in order to reunite you with your family and return to work. Our staff of physician assistants, nurses and doctors have undergone extensive training to understand the Louisiana Workers' Compensation guidelines. We will fight for what is right for you and your health. Our physical therapists and chiropractors work hand-in-hand to give every patient the specific care needed. Every patient is unique and treatment will be based on the best standard of care available.
Get The Treatments You Need Without All The Waiting
The most difficult part of receiving treatments from doctors is coordinating the different treatments options between physical therapists, chiropractors and pain management physicians. At LA Health Solutions, we take care of it. Our team will make sure that you get the necessary medical treatments immediately. Did you know that we have a 95% approval rate for getting the treatments and coverage necessary for workers' compensation claims? This means our patients get the necessary medical treatment immediately, essentially skipping the lines other physicians' would make you wait in. We are the physicians' group that will fight for your treatments.
Working Together For Your Health
For many people, such injuries can have devastating consequences regarding their ability to work, severe loss income and financial difficulties, pain and overall well-being and difficulty obtaining medical treatment. While the Louisiana Workers' Compensation system is supposed to provide for certain benefits to an injured employee, we have learned firsthand that the Louisiana Workers' Compensation system quite often does not work the way it is supposed to work. With that being said, we will work even harder by coordinating with your lawyers and do all that is necessary to give you the care you deserve. We are a team of doctors working with your attorney to represent your best interests for your health. Learn more about our services HERE.
At LA Health Solutions we pride ourselves on our multi-disciplinary facility that offers a variety of comprehensive services including pain management, physical therapy, and chiropractic work. Many of problems that we see in our patients can be treated with the right mix of non-surgical approaches, you do not have to have surgery first to see results.