Drug-Free, Surgery-Free, Pain Relief
What is Lightforce Laser Therapy?
LA Health Solutions offers the newest innovation from the leaders in laser therapy.
The laser affects the metabolism at the cellular level. It helps injured cells/ tissue heal quicker by enabling oxidative phosphorylation to be restored at the mitochondria level. The laser therapy will help reduce pain by decreasing inflammation and to reduce the pain level. 
Frequently Asked Question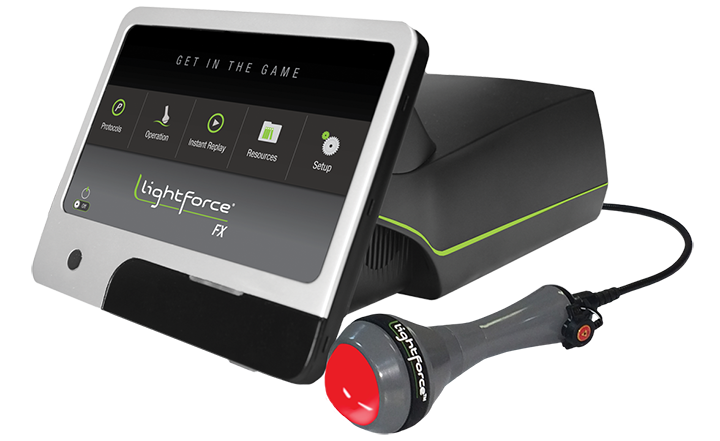 Have any questions? Call us now!
Therapy Clinic Hours
Monday – Thursday 9:00 am – 6:00 pm
Friday 9:00 am – 2:00 pm
Saturday 9:00 am – 12:00 pm (Metairie & Westbank – By Appointment Only)
Specialty Clinic Hours
Monday – Friday 8:00 am – 5:00 pm
PEMF Therapy is used for:
BACK AND JOINT PROBLEMS
EDEMA AND SWELLING
LACK OF CIRCULATION
SKIN WOUND HEALING
FIBROMYALGIA
CHRONIC FATIGUE SYNDROME
ARTHRITIS
What is Pulsed Magnetic Therapy?
How does PEMF therapy affect the body?
The body's natural magnetic field. This is created by the flow of electrically changed ions in and out of the cells and the transmission of electric impulses through cell membranes. Only Pulsed Electro – Magnetic Field (PEMF) force can naturally influence electrical changes on a cellular level within the body for cell metabolism to be influenced.
PEMF Therapy pulses a magnetic field into the body, creating an extraordinary healing effect. The results are less pain, reduction in swelling, and increased range of motion in the affected areas. PEMF Therapy is already approved by the FDA to promote the healing of non-healing bone unions and has been used in Europe for over 20 years in over 400,000 sessions with individuals experiencing migraines, sports injuries and other pain syndromes.
Benefits of PEMF Therapy
Regenerates damaged and diseased tissue, repairs torn tendons and fractured bones.
Enhances the synthesis of protein in the cells, allowing the body to take advantage of all the protein available.
Improves circulation, not by increasing heartbeat or blood pressure, but by opening and dilating the arteries and capillaries. This also reduces edema (swelling).
Increases the cellular level of oxygen absorption by up to 200%. This reduces pain associated with lack of sufficient oxygen.
Trust Your Health with LA Health Solutions
Have any questions? Call us now!