The Benefits of Consistent Exercise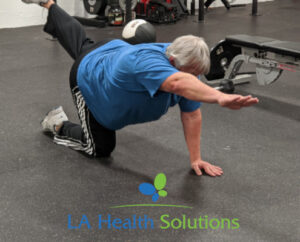 If you have been searching for the secret to better health, look no further than exercise. Exercise is the only "fountain of youth" that has been proven to increase your chances to live longer. "People who are physically active for 150 minutes a week, have a 33% lower risk of all-cause mortality than those who are physically inactive, " according to the CDC (Click HERE for details) .  Exercise is an extremely important part of our daily lives, and unfortunately, most of us are simply not moving enough to meet the minimum threshold for good health. Basically, we are all supposed to burn at least 800 to 1,000 calories a week through physical activity. Adding as little as thirty minutes of moderate physical activity to your daily return will not only help to improve weight, but it can also help a whole bunch of other health problems. In general, exercise can help with diabetes, depression, heart disease, breast cancer, colon cancer, joint pain, sleep, stress, arthritis, strokes, and can even improve your sex life.  A well-rounded exercise program will include a balance of aerobics, strength training, and stretching. Everyone is unique with different fitness goals which means that your workout should be tailored to your goals and limitations.
Benefits:
Exercise Controls Weight – A little bit of exercise will help to prevent weight gain and help to maintain weight loss. Whether you are walking around the block, taking the stairs, or going to the gym, you are burning calories. But, don't stop and try to do a little something everyday.
Boost Your Energy Levels & Improve Your Mood  – Regular physical activity can improve your endurance and muscle activity. Exercise helps to deliver oxygen and nutrients to your tissues and helps your cardiovascular system to work more efficiently. The physical activity even helps to stimulate brain chemicals that can make your feel happier and less stressed. And yes, if your energy levels increase and endurance increase, exercise can help but a little sparkle back into your sex life.
Combat Diseases & Health Conditions – Exercise helps with so many health problems that it should be part of everyone's daily return. A little exercise every single day will help to keep the doctor away. It can help with heart disease, diabetes, arthritis, anxiety, depression, cancer, strokes and so many more. If you want to avoid these health obstacles, exercise is definitely one of the keys to success.
Improve Sleep – If you have trouble sleeping, exercise can actually help you fall asleep faster and deeper. But, don't exercise too close to bedtime because it could cause an increase in energy which may make it too hard to go to sleep.
Good For Muscles & Bones – Physical activity like stretching and weight lifting help improve muscle mass and bone density.  Exercise has been shown to slow the loss of bone density and increase muscles help to prevent falls while helping joints and reducing the risk of injuries.
Revolution Fitness
Exercising alone is not easy, especially when you do not know where to start. Revolution Fitness is a personal training gym that is unlike any gym you have ever seen because the trainers tailor your workout based on your specific body, goals, and concerns.  Whether you are training for sports performance, injury rehabilitation, weight loss, or to improve overall health, Revolution Fitness guarantees a better you. Click HERE to learn more.
LA Health Solutions
At LA Health Solutions, we pride ourselves on our the variety of comprehensive services that we offer including pain management, physical therapy, and chiropractic work. Many health problems that we encounter with our patients can be treated with the right mix of non-surgical approaches without surgery. We truly care about each one of our patients and what they need to live a pain-free and happy life. Whether you've been hurt on the job or you have chronic pain that impacts your daily routine, our medical team can help you find the relief you need. We offer appointments our clinics and through telemedicine. Whether you are from New Orleans, Slidell, Baton Rouge, Metairie, or Kenner, contact LA Health Solutions today!