LA Health Solutions' Team – Dr. Vincent Stadelman
The LA Health Solutions' team is your team. We offer a comprehensive Medical Care group that works together as a team for a patient's care providing chiropractors, physical therapists, orthopedic surgeons and pain management specialists all in a single building. Get to know our team better – Dr. Vincent Stadelman.
Dr. Vincent Stadelman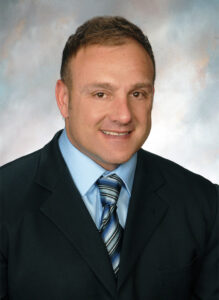 Dr. Vincent Stadelman is an established and highly skilled physician with LA Health Solutions. Dr. Stadelman graduated Logan College of Chiropractic in St. Louis, Missouri, in 2014. During his two year clinical rotation at the St. Louis Veterans Hospital, Dr. Vincent Stadelman gained a better understanding of the spine, patient care, and a variety of cases including wounded war veterans. He also has a Nutrition Degree from Eastern Illinois University and  Certifications in Active Release Technique,  Graston Technique, Kinesio Taping Technique, Logan Basic Chiropractic Technique, Thompson Chiropractic Technique, Motion Palpation Chiropractic Technique and Diversified Chiropractic Technique.
Dr. Vincent Stadelman takes pride in the care he provides to each of his patients by keeping them healthy, well and thriving. He enjoys spending his spare time with family; his beautiful wife, Rosanna and his son, Blaise, along with daughter, Isla. He is endlessly active in the community and his other hobbies include fitness, strength and conditioning, physical activities, along with playing the guitar. Learn more about Dr. Vincent Stadelman – HERE.
LA Health Solutions
At LA Health Solutions, we pride ourselves on our the variety of comprehensive services that we offer including pain management, physical therapy, and chiropractic work. Many health problems that we encounter with our patients can be treated with the right mix of non-surgical approaches without surgery. We truly care about each one of our patients and what they need to live a pain-free and happy life. Whether you've been hurt on the job or you have chronic pain that impacts your daily routine, our medical team can help you find the relief you need. We offer appointments our clinics and through telemedicine (Click HERE for more information). Whether you are from New Orleans, Slidell, Baton Rouge, Metairie, or Kenner, contact LA Health Solutions today!