LA Health Solutions: Your One Stop For All Docs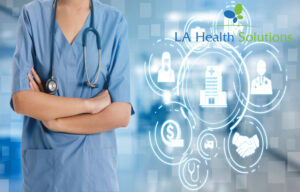 In the medical industry, it is rare to see a comprehensive Medical Care group working together as a team for a patient's care much less chiropractors,  physical therapists, orthopedic surgeons and pain management specialists working hand in hand in a single building. When you come to LA Health Solutions, you will find everything you need concerning your health in one place – Your One Stop For All Docs. We can seamlessly refer you to a therapist or a surgeon in the same building. You do not have to worry about  waiting for an appointment for months or for your medical documents to be transferred. We will take care of everything. We believe in providing you with the care that you not only need, but the care that you deserve. By combining physical therapy, pain management, and chiropractic treatments and procedures, our goal is to give you the best care possible to maximize your results for long-term success.
Comprehensive Patient Management
With more than 20 years of experience in the healthcare industry, we know what it takes to provide comprehensive patient care. It is about more than just taking care of the issue at hand, but getting to the source of the health problem. We help each one of our patients in a caring and compassionate manner, committing our time and expertise towards making a difference in a patient's life. We work with our patients to find the best injury relief treatment plan that works for them and their health goals. With eight (8) locations spanning from the New Orleans Metro area to Baton Rouge, LA Health Solutions is unlike any other practice in Louisiana. You will see our doctors, surgeons, therapists, and chiropractors working and communicating together as a team.  Whether you've been hurt on the job or you have chronic pain that impacts your daily routine, our chiropractors and physical therapists can help you find the relief you need. Our team has undergone extensive training to understand the Louisiana Workers' Compensation guidelines, and we are in the best position to fight for what is right for you. We are the best solution when it comes to your health because our physical therapists and chiropractors work hand-in-hand in order to give every patient the specific care they need. LA Health Solutions takes pride in the fact that we have a 95% approval rate. This means our patients get the necessary medical treatment immediately, essentially skipping the lines other physicians would require you to wait in. If you have legal counsel, we will work together to ensure you get the care you deserve.
A Non-Surgical Approach
We pride ourselves on our multi-disciplinary facility that offers a variety of comprehensive services including pain management, physical therapy, and chiropractic work. Many problems that we see in our patients can be treated with the right mix of non-surgical approaches. Everyone deals with pain differently, so the approach to pain treatment is customized to each patient. From sports-related injuries to diseases, we will tailor your treatments to you.  Instead of just masking the issue, why not come to LA Health Solutions for true healing?
Find out more about LA Health Solutions today!