How does PEMF therapy work?
Pulsed Electro – Magnetic Field (PEMF) therapy basically sends magnetic energy into your body. By sending these energy waves into the body's natural magnetic field, you can actually enhance healing, according to experts. The magnetic fields can increase the motion of the electrolytes and ions that are in the tissues and fluids in your body. This movement stimulates a wide range of chemical, mechanical, and electric actions in the tissue. Only Pulsed Electro – Magnetic Field (PEMF) force can naturally influence electrical changes on a cellular level within the cell metabolism.
Unlike other systems that produce weak magnetic fields, Pulsed Magnetic Therapy produces magnetic fields approximately 10,000 times more powerful than standard magnets.
What Are The Benefits Of PEMF Therapy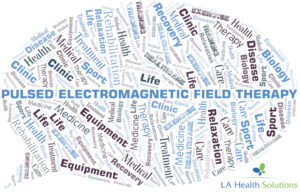 PEMF Therapy can lead to less pain, reduction in swelling, and increased range of motion in the affected areas. Regenerating damaged tissue, repairing torn tendons and  fractured bones are some of the conditions PEMF therapy can help you with. PEMF therapy can improve athletic performances, reduce inflammation, stimulate cell metabolism and help you recover faster from an injury. Furthermore, PEMF therapy increases the cellular level of oxygen absorption by up to 200%. This reduces pain associated with lack of sufficient oxygen.
This type of therapy is non-invasive and safe for all ages. Even after years of chronic discomfort, positive results were noticed after a few treatments. according to experts.  PEMF Therapy is already approved by the FDA to promote the healing of non-healing bone unions and has been used in Europe for over 20 years in over 400,000 sessions with individuals experiencing migraines, sports injuries and other pain syndromes.
If you are interested in PEMF Therapy talk to the experts at LA Health Solutions today!
At LA Health Solutions, we pride ourselves on our multi-disciplinary facility that offers a variety of comprehensive services including pain management, physical therapy, and chiropractic work. Many problems that we see in our patients can be treated with the right mix of non-surgical approaches, you do not have to have surgery first to see results.