TAI CHI CLASS FOR A CAUSE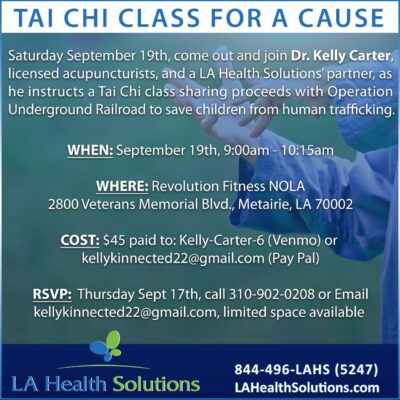 On Saturday September 19th , 2020, come out and join Dr. Kelly Carter, licensed acupuncturists, and a LA Health Solutions' partner, as he instructs a Tai Chi class sharing proceeds with Operation Underground Railroad to save children from human trafficking.
What: Tai Chi class
When: September 19th / 9:00am – 10:15am
Where: Revolution Fitness – 2800 Veterans Memorial Blvd., Metairie, LA 70002
Cost:$45 paid to: Kelly-Carter-6 (Venmo) or kellykinnected22@gmail.com (Pay Pal)
Who: Master Instructor Dr. Kelly Carter
Will Learn: 4-5 simple, but powerful exercises
RSVP: Thursday Sept 17th, call 310-902-0208 or Email kellykinnected22@gmail.com, limited space available
Please bring your mask! We will be taking the proper COVID precautions on social distancing.
About Dr. Kelly Carter
Kelly Carter, L.Ac., DAOM, has been practicing Tai Chi since 1989 and has taught many seminars in different locations. Kelly is Master Kimball Paul's first assigned Master of Tai Chi Chuan and is also recognized in China. To learn more, there is some Tai Chi info on the website kellykinnected.com.
Dr. Kelly wrote his doctoral dissertation on the "Efficacy of Tai Chi for the Treatment of Anxiety". It concluded, through research, how Tai Chi significantly reduces anxiety and depression. In this project substantial research was found on the efficacy of Tai Chi for arthritis, cardio-vascular health, balance improvement, pain of many kinds and that it helps to develop a strong immune system and more.
Health – Mental and Physical
Why Tai Chi? Tai Chi relieves stress and allows the "Relaxation Response" and because of this it greatly enhances your immune system. The stressors we are experiencing in our lives now are unprecedented; Isolation, being more sedentary, and the media driven fear at a whole new level. This complex stress can stick us in constant "fight or flight". When we are in this fight or flight state our immune system shuts off completely and we are not thinking or functioning at our best level. (The Biology of Belief, 2005, pp 119) Blending Tai Chi with The LifeLine Technique is part of what will be taught. LifeLine addresses specific emotional issues.
Martial Arts
Tai Chi is a martial art. Kelly has an unusual perspective of how Tai Chi works as a martial art due to his background. He is a Brazilian Jiu Jitsu black belt as well as a Kenpo Karate 6th dan, and an MMA fighter and coach and has studied with some of the very best in the world. Tai Chi indirectly helps your other martial arts skills work at a higher level when things "get real". It allows calmness and the ability to be in the zone which helps you access your other martial arts skills.  Dr. Kelly has experienced this "Zone"  in dangerous situations successfully.
Breathing
Nasal breathing, as done in Tai Chi, increases the production of nitric oxide in your body which is a strong defense against viruses and essential for cardiovascular health. See the attached research on nitric oxide. (The Oxygen Advantage, 2015, pp 67).
Dr. Kelly Carter's Background
Doctor of Acupuncture and Oriental Medicine – Pacific College of Oriental Medicine
Master of Science in Oriental Medicine – Midwest College of Oriental Medicine
Advanced Acupuncture and Oriental Medicine Certificate – Guanzhou University, China
Licensed Acupuncturist
Bachelor of Liberal Arts – Columbia College
Certified Active Isolated Stretching & Strengthening (Mattes Method) – AIS Training Academy
Certified LifeLine Practitioner – The LifeLine Technique Training Academy
Master of Tai Chi/Chi Gung – Crossroads Academy
Black Belt in Brazilian Jiu Jitsu – Street Sports BJJ, IBJJF
6th Degree Black Belt in Kenpo Karate
5th Degree Black Belt in Lasassious Do Ru
Certified Olympic Weightlifting Coach
Certified Kettle Bell Coach
Certified Happy Body Coach
Certified Sports Performance Coach
Public Speaker
Producer of the Flexibility Program for the "Future Olympians" USA Wrestling Program
Film Maker
At LA Health Solutions, we pride ourselves on our multi-disciplinary facility that offers a variety of comprehensive services including pain management, physical therapy, and chiropractic work. Many problems that we see in our patients can be treated with the right mix of non-surgical approaches, you do not have to have surgery first to see results.