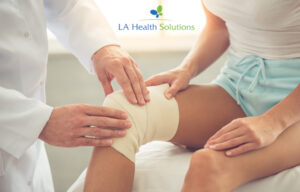 The LA Health Solutions Team offers a wide variety of services including Orthopedic Surgery and Rehabilitation programs. Orthopedic surgery is the field of medicine that focuses on surgery on, or manipulation of, the musculoskeletal system. The musculoskeletal system is made up of bones, cartilage, ligaments, tendons and muscles, which form a framework for the body. This also includes joints and nerves. Orthopedic surgery and rehabilitation therapy  are used to treat injuries or conditions that are affecting your muscles, bones, cartilage, joints, tendons or ligaments. Sprains, muscle strains, fractures  as well as amputations are some of the conditions orthopedic surgeons treat.
"Orthopedic surgery and rehab can help improve your quality of life by reducing pain and building muscles to increase flexibility and strength." says Dr. Lyle Schween, CEO of LA Health Solutions.
What LA Health Solutions Can Do For You
At LA Health Solutions, our orthopedic surgeons have the experience and education needed to ensure that your musculoskeletal system is well taken care of through every stage of life. Our staff members use both surgical and nonsurgical methods to treat a variety of ailments due to trauma, sports, and degenerative disease. No matter what your problem may be, we think that you deserve quality treatment that will help you live a happy, healthy, and full life.
Whether you have experienced a traumatic sports injury, have an infection, a tumor, or a congenital disorder, our surgeons and therapists take their time to properly diagnose the situation at hand, and devise a plan for your treatment options. With our orthopedic rehabilitation program, you can find the immediate relief that you desire, as well as a long-term plan for success in the future.
For more information, visit: https://lahealthsolutions.com/services/orthopedic-surgery-and-rehab-we-have-two-surgeons/
At LA Health Solutions, we pride ourselves on our multi-disciplinary facility that offers a variety of comprehensive services including pain management, physical therapy, and chiropractic work. Many problems that we see in our patients can be treated with the right mix of non-surgical approaches, you do not have to have surgery first to see results.