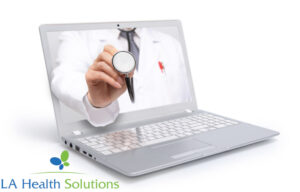 At LA Health Solutions, our patients' safety and health are very important to us. We recognize how difficult it is for our patients right now due to the impact that the coronavirus (COVID-19) has had on our community. As a result, we have taken additional steps to ensure the safety of our community and all of our patients.
In order to continue providing care to all of our patients, LA Health Solutions will be utilizing healow TeleVisit (Telemedicine). Televisit is a safe and secure way to connect to LA Health Solutions' doctors remotely, via video and audio connection with on your smartphone or computer devices.
How Does Healow TeleVisit Work
TeleVisits will give you the quality of an in office visit with the safety of being online. There are several ways you can start your TeleVisit. You can launch the TeleVisit by clicking on a link sent by LA Health Solutions in an email or a text. In that case, you do not need to log in.
You can also start your TeleVisit from the healow App which you can download on your phone. Upcoming appointments will be indicated in red.  When you touch your appointment wheel you will see a new screen that shows you all the appointments that have been set up for TeleVisits. When you want to start your appointment through the app, make sure it has access to your phone's microphone and camera. Touch the camera icon on the right-hand side on the screen then touch "Start TeleVisit". You will be directed to a temporary virtual waiting room. When your healthcare provider joins you will be able to talk and speak to us.
Another way to start your healow TeleVisit is through your patient portal via your web browser. You will sign into your patient portal. You will need a camera, a speaker and a microphone installed on your computer. Make sure you have a secure and reliable internet connection before you start your TeleVisit. In the appointment area on the left you will see a button that says "Join TeleVisit". Click the button and follow the instructions. Eventually you will get to a button that says "Start TeleVisit". After clicking that button you will be directed to the virtual waiting room. You will be able to speak to us once the visit starts.
If you need additional assistance, please contact the LA Health Solutions Team at 1-888-496–LAHS(5247).
At LA Health Solutions, we pride ourselves on our multi-disciplinary facility that offers a variety of comprehensive services including pain management, physical therapy, and chiropractic work. Many problems that we see in our patients can be treated with the right mix of non-surgical approaches, you do not have to have surgery first to see results.