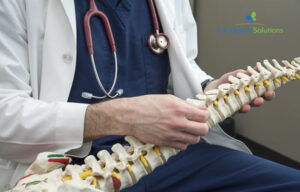 Chiropractic services will help with musculoskeletal conditions and disorders. Chiropractors performing chiropractic services treat disorders of the bones, nerves, muscles, ligaments and other neuromuscular disorders.  These type of disorders may also be affecting the peripheral nervous system, which consists of all the motor and sensory nerves that connect the brain and spinal cord to the rest of the body. Treatment typically involves manual therapy, often including spinal manipulation which have been proven to provide some relief.
Unlike many illnesses, there is no treatment for back and spinal pain that works for everyone. While chiropractic work does help a variety of people gain relief from their uncomfortable pain, when you come to LA Health Solutions, you will get the specialized treatment that is customized to fit your specific needs.
At LA Health Solutions, our goal is to help each one of our patients on an individual level, so you have the exact chiropractic care that you need for your specific pain and injury. –  Dr. Lyle Schween, CEO of LA Health Solutions.
We strive to be the professionals you can rely on no matter what your needs may be. Combined with some of our other treatment options, like physical therapy and pain management, chiropractic care from one of our highly-trained physicians may be exactly what you need to get back to living a pain-free life. Our chiropractic services are meant to treat your spine, back, and neck, and to provide you with the permanent and immediate relief that you desire. Whether you have been recently injured or have had tension building over the past few years, your back health is an essential part of living a healthy and happy life.
Make an appointment today to take advantage of our chiropractic services. For more information visit: https://lahealthsolutions.com/services/chiropractic/
At LA Health Solutions, we pride ourselves on our multi-disciplinary facility that offers a variety of comprehensive services including pain management, physical therapy, and chiropractic work. Many problems that we see in our patients can be treated with the right mix of non-surgical approaches, you do not have to have surgery first to see results.