Our chiropractic services are meant to treat your spine, back, neck and Body.
What is Chiropractic Care?
Chiropractic is a healthcare profession that cares for a patient's neuromusculoskeletal system.
Chiropractic is an alternative health profession that focuses on the spine and other joints of the body and their connection with the nervous system. A Chiropractor specializes in the spinal health and well being focusing on the prevention, diagnosis and conservative care of spine-related disorders and joint issues. Chiropractors will perform adjustments soft-tissue therapies, lifestyle recommendations, fitness coaching and nutritional advice. By improving the neuromusculoskeletal system's ability to perform, chiropractors believe the benefits of spinal adjustment and realigning joints improves the functioning of other systems throughout the body.
What is a chiropractic adjustment?
An adjustment is a very safe, controlled force applied to a joint to restore proper function and mobility. Accidents, falls, stress or overexertion can negatively impact your spine or other joints. These changes impact tissues, the nervous system and other areas of the body. Left unresolved, this can make you more susceptible to chronic problems. Chiropractic adjustments reduce pain, increase movement and improve performance.
Most common reasons to see a chiropractor include the below: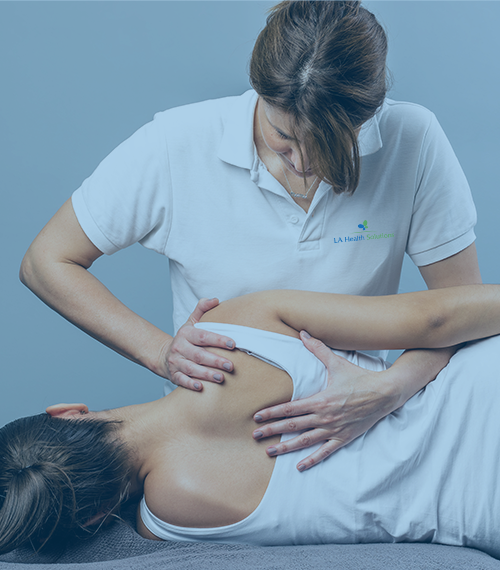 Have any questions? Call us now!
Therapy Clinic Hours
Monday – Thursday 9:00 am – 6:00 pm
Friday 9:00 am – 2:00 pm
Saturday 9:00 am – 12:00 pm (Metairie & Westbank – By Appointment Only)
Specialty Clinic Hours
Monday – Friday 8:00 am – 5:00 pm
Trust Your Health with LA Health Solutions
Have any questions? Call us now!