Can Sugar Cause Inflammation?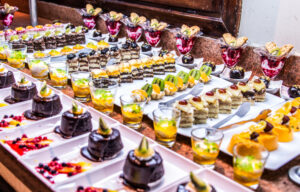 The holidays are almost upon us and that means lots of parties and usually lots of unhealthy food options. Before you go and get a second helping of the sweet potato casserole or another piece of cake from the dessert bar, consider that too much sugar could harm your body in more ways than one.
How Your Body Reacts To Too Much Sugar
Studies have shown consuming too much sugar and refined carbohydrates is linked with elevated inflammation in your body, as well as insulin resistance, weight gain, tooth decay and others. Eating too much sugar or high-fructose corn syrup may even lead to what is called chronic inflammation. Experts explain that sugary foods cause a spike in a hormone called insulin which starts a cascade of biochemical reactions that lead to the production of inflammation. Most forms of joint pain and muscle aches involve inflammation. If your pain is the result of trauma, symptoms can be made worse by eating sugary foods.
How Much Sugar Is Too Much?
Nutritionists suggest that Americans should get only 10% of their calories from sugar. This equals 13.3 teaspoons of sugar per day (based on 2,000 calories per day). The current average is 42.5 teaspoons of sugar per day. The average American, today, consumes almost 152 pounds of sugar in one year, according to United States Department of Health and Human Services (DHHS). This is equal to 3 pounds (or 6 cups) of sugar consumed in one week.
Try to opt for healthier foods. A two ounce chocolate bar has 30 grams of sugar and the same calories as three medium bananas. The bananas are low in fat, high in vitamins and minerals and are fiber-rich. Furthermore, bananas contain no sugar and will make you feel full longer than a candy bar.
For more information visit: https://www.dhhs.nh.gov/dphs/nhp/documents/sugar.pdf
At LA Health Solutions, we pride ourselves on our multi-disciplinary facility that offers a variety of comprehensive services including pain management, physical therapy, and chiropractic work. Many problems that we see in our patients can be treated with the right mix of non-surgical approaches, you do not have to have surgery first to see results.