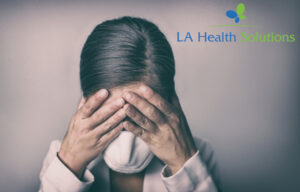 You might find yourself stressed out by the coronavirus pandemic. Stress and anxiety, unfortunately, are fairly normal in times like this.  Your health and the health of your loved ones could be one concern. Many of us are also worried about our jobs and our financial situation. Now that many people have lost some financial support, stress and anxiety levels are on the rise.
What Stress & Anxiety Can Do To You
When you are under stress and anxiety over a long period of time, you may experience health issues you have not experienced before. You may have trouble sleeping. You may change your eating patterns. Some people will start smoking and drinking more than they used to. If you suffered from chronic pain, you might find that your conditioning is worsening. Stress and anxiety will also take a toll on your mental health.
What You Can Do To Reduce Stress & Anxiety
In order to stay well, there are a few things you can do to reduce stress and anxiety. Try to eat healthy, get a regular exercise routine going, stay socially connected and get enough rest. If you are working from home, try to take regular breaks and turn the computer off once you are finished. Taking a break from the daily news, now and then, may also make you feel better.
However, if you feel that your health problems are worsening and stress and anxiety are getting to you,  make sure to seek help!
Right now it is very important that you take care of your physical and mental health. If you are experiencing health issues seek medical help right away and don't wait until the pain is unbearable – Dr. Lyle Schween, CEO & Chiropractor, LA Health Solutions
Talk to your healthcare provider about your issues. A LA Health Solutions, we offer TeleVisit (Telemedicine) that is safe and secure to provide care to all of our patients. Right now we are accepting new patients.
At LA Health Solutions, we pride ourselves on our multi-disciplinary facility that offers a variety of comprehensive services including pain management, physical therapy, and chiropractic work. Many problems that we see in our patients can be treated with the right mix of non-surgical approaches, you do not have to have surgery first to see results. If you are suffering from stress and anxiety contact us. We offer appointments our clinics and through telemedicine (Click HERE for more information). Whether you are from New Orleans, Slidell, Baton Rouge, Metairie, or Kenner, contact LA Health Solutions today!