What Is The Body Mass Index (BMI)?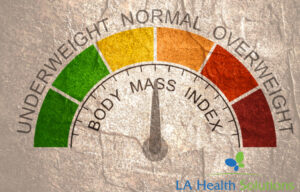 Have you ever heard of the Body Max Index or BMI? You may have heard the term(s) when people are talking about fitness. The Body Mass Index measures your body size. It basically combines your weight with your height. The measurement will give you an idea whether you are underweight, overweight, or obese. The Body Mass Index is defined as body weight in kilograms divided by height in meters squared, according to the CDC. The Body Mass Index does not measure body fat; however, it correlates with total body fat. In other words, if your doctor wants to determine whether your high Body Mass Index poses a risk to your health, he or she will have to perform further assessments.
What Is The Right Body Mass Index
The Body Mass Index is calculated the same way for both adults and children; however, children's and teen's Body Mass Indexes are age and gender specific, because the amount of body fat changes with age and the amount of body fat differs between girls and boys. A Body Mass Index of less than 18.5 means that a person is underweight. A Body Mass Index of between 18.5 and 24.9 is ideal. A Body Mass Indexof between 25 and 29.9 is overweight,  according to the National Institutes of Health (NIH). While calculating your Body Mass Index, make sure you have your exact weight and size. The CDC says a BMI of 30 or greater has increased in the U.S. since the 1970s. However, recently this trend has leveled off, except for older women. If you are obese, your risk for many diseases and health conditions increases. Some of those conditions include: high blood pressure, Type 2 diabetes, stroke, gallbladder disease, as well as body pain and difficulty with physical functioning. If you want to calculate your BMI visit: https://www.nhlbi.nih.gov/health/educational/lose_wt/BMI/bmicalc.htm
Revolution Fitness
Working out and getting fit is not an easy thing to commit to, especially in New Orleans. We have wonderful parties and festivals with lots of great food and drinks that will take away from fitness time in your schedule. Revolution Fitness NOLA may be a great solution. Revolution Fitness NOLA has taken the best training methods from around the country and put them under one roof. No matter what your fitness level, Revolution Fitness NOLA has something for you. It is a personal training gym that takes guesswork out of fitness and revolts against standard box gyms with rows of non-functional equipment and mundane exercise programs. If you are interested in learning more about Revolution Fitness, call 504-570-6333, Check out the website HERE, or stop the gym conveniently located at 2800 Veterans Blvd in Metairie.
Are you experiencing pain? SCHEDULE AN APPOINTMENT or Call Today: 844-496-LAHS (5247). At LA Health Solutions, we pride ourselves on our multi-disciplinary facility that offers a variety of comprehensive services including pain management, physical therapy, and chiropractic work. Many problems that we see in our patients can be treated with the right mix of non-surgical approaches, you do not have to have surgery first to see results.