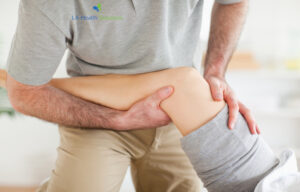 Did you know that you can manage your pain with physical therapy? Physical Therapy, also sometimes called physiotherapy, is a non-invasive form of therapy. It uses exercise and mobilization to treat chronic pain. Stretches, massages, ultrasound as well as practice with walking aids or other gadgets could all be part of your physical therapy. Physical Therapy aims to relieve pain and help you move and live better. This type of therapy can help you recover from an injury, relieve pain, prevent future injury or deal with a chronic condition.
What LA Health Solutions Can Do For You
We, at LA Health Solutions, offer a wide variety of Physical Therapy Services. Physical therapy not only helps to correct the root issue of all the pain that you feel, but it builds your muscles and strengthens your body to prevent further injury and pain later down the road.
Unlike many other practices, we do not believe in just giving you medication to hide your discomfort. Yes, pills may work temporarily, but there's always a chance that they could start to cause other irreversible problems.
Our goal is to design a customized plan that will increase your mobility, strength, and your overall well-being. A pain-free life is achievable with LA Health Solutions. If you are in need of the best physical therapy New Orleans and Baton Rouge has to offer, contact us today.
Our highly-qualified therapists work with you one-on-one to provide the exact rehabilitation and care you need to find wellness one again.
For more information visit: https://lahealthsolutions.com/services/physical-therapy/
At LA Health Solutions, we pride ourselves on our multi-disciplinary facility that offers a variety of comprehensive services including pain management, physical therapy, and chiropractic work. Many problems that we see in our patients can be treated with the right mix of non-surgical approaches, you do not have to have surgery first to see results.