Information about the Coronavirus & COVID-19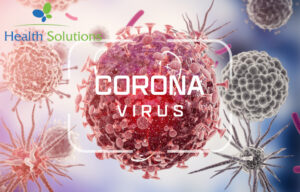 The Coronavirus Disease (COVID-19), which is the disease caused by the coronavirus, has killed over 5,000 people worldwide including over 30 in the U.S. up-to-date. Right now there are 33 presumptive cases in Louisiana. The majority of the cases have been found in the New Orleans area. The virus was first detected in December 2019 in the city of Wuhan in China. Since then the virus has spread all over the world, the CDC says that coronaviruses are a large family of viruses that are common in many different species of animals including camels, cattle, cats, and bats. Animal coronaviruses very rarely spread from animals to people. However, experts believe that this new virus (SARS-CoV-2) had its origins in bats.
For the latest information about the coronavirus visit: https://www.cdc.gov/coronavirus/2019-ncov/cases-in-us.html
Five Steps to Handwashing:
There are a few things you can do to protect yourself and your family from the coronavirus. Avoid close contact with people who are sick. Wash your hands often using a had sanitizer that contains at least 60% alcohol. When washing you hands follow these guidelines:
1. Wet your hands with clean, running water and use soap, or hand sanitizer.
2. Lather soap or sanitizer in your hands by rubbing them together with the soap. Lather the back, front, between your fingers, and under your nails.
3. Don't just rinse your hands, but scrub them for at least 20 seconds. (If you need a timer, sing the "Happy Birthday" song two times.)
4. Rinse your hands well under clean, running water.
5. Dry your hands using a clean towel or air dry them.
If you are sick stay at home and contact your healthcare provider.
Your health is our priority
As the coronavirus (COVID-19) continues to impact the city of New Orleans and surrounding areas, we want to let all of our patients know that The LA Health Solutions Team is maintaining the safest environment possible at all of our clinic locations. We understand that our patients may be concerned about the effects that COVID-19 may have on their continued treatments, but we want to assure you that the LA Health Solutions Doctors, Nurses and Staff are all available to continue treating our patients. We always help each one of our patients in a caring and compassionate manner, committing our time and expertise towards making a difference in a patient's' life.
LA Health Solutions – All Locations are Open
At LA Health Solutions, we pride ourselves on our multi-disciplinary facility that offers a variety of comprehensive services including pain management, physical therapy, and chiropractic work. Many problems that we see in our patients can be treated with the right mix of non-surgical approaches, you do not have to have surgery first to see results.