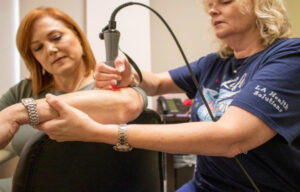 Are you suffering from pain and are looking for some alternative treatment options? Have you ever heard of Laser Therapy?  At LA Health Solutions, we offer the newest innovation from the leader with Laser Therapy. This treatment relieves pain and inflammation associated with arthritic conditions, neck pain,  lower back, shoulder pain, knee and ankle pain, sprains, strains and sports injuries, hand and wrist injuries and many other conditions.
How Does It Work
Deep Tissue Laser Therapy uses photo-bio stimulation to accelerate your body's own natural healing process. Basically, the laser impacts the metabolism at the cellular level, helping injured cells or tissue to heal quicker by enabling oxidative phosphorylation to be restored at the mitochondria. A light receptor in the mitochondria accepts light and this impacts inner mitochondrial membrane at cytochrome-C Oxidase. Once activated, cells can produce more ATP, which helps restore normal cell metabolism.
Laser Therapy can help with most conditions that involve pain and inflammation. It can help with both chronic and acute pain-related problems. This new alternative treatment has proven to be very effective for difficult conditions. It has a very fast treatment time and is a great alternative to surgery, since it is an easy non-invasive treatment. Your LA Health Solutions therapist will be able to more accurately answer your questions after they meet with you and discuss the history of your problem. Keep in mind that most laser therapy plans require more than one visit. The cost of your treatment will vary depending on what is needed for your particular problem. Everybody and every condition is different. We will assess your particular situation and then discuss costs. Some insurances do cover this service. Click HERE to learn more.
At LA Health Solutions, we pride ourselves on our multi-disciplinary facility that offers a variety of comprehensive services including pain management, physical therapy, and chiropractic work. Our team is composed of highly regarded board-certified and double board-certified surgeons. Many problems that we see in our patients can be treated with the right mix of non-surgical approaches, you do not have to have surgery first to see results.