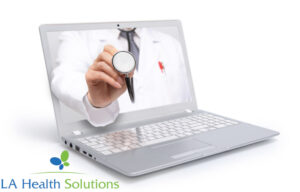 The LA Health Solutions Team is dedicated to providing the best patient care. We recognize how difficult it is for our patients right now due to the impact that the coronavirus (COVID-19) has had on our community. As a result, we have taken additional steps to ensure the safety of our community and all of our patients. We have heightened our hygienic protocol, established extensive practices, and educated our staff to make our clinics as safe as possible.
LA Health Solutions will continue to care for our existing patients and new patients using telemedicine with TeleVisit. Telemedicine is a great alternative to office visits that allows are team to continue to provide services to patients in the comfort of their homes.
If you have questions about our services, please call us today at 844-496-LAHS (5247).
Learn More About TeleVisit
The LA Health Solutions Team will be available daily for new patients and follow-up appointments using TeleVisit. TeleVisit is a secure alternative to an office visit that can be done from the convenience of your home. Our team will have access to all the same clinical tools available for any office visit. All you need to get started is a computer or a smart phone.
You will need four (4) things to get started:
You must be able to sign into your patient portal
A Camera on your computer or phone
A speaker on your computer
A secure/reliable internet connection
Please see the VIDEO in this email to help set up your Televisit.
If you need additional assistance or you are a new patient, please contact the LA Health Solutions Team at 1-888-496–LAHS(5247).
At LA Health Solutions, we pride ourselves on our the variety of comprehensive services that we offer including pain management, physical therapy, and chiropractic work. Many health problems that we encounter with our patients can be treated with the right mix of non-surgical approaches without surgery. We truly care about each one of our patients and what they need to live a pain-free and happy life. Whether you've been hurt on the job or you have chronic pain that impacts your daily routine, our medical team can help you find the relief you need. Whether you are from New Orleans, Slidell, Baton Rouge, Metairie, or Kenner, contact LA Health Solutions today!