Ronald C. Segura, MD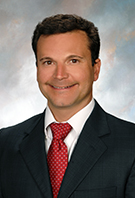 Dr. Segura offers a comprehensive pain management clinic providing exceptional care for patients throughout the southern region. Dr. Segura is Double Board Certified in both PM&R, along with, interventional spine/pain medicine. His specialty includes diagnostic spinal injections, together with, treatment of spinal disorders utilizing fluoroscopically guided micro-invasive spine surgery. He is one of the regions' leading experts in the treatment of neck pain disorders. While he uses medication management to treat various headache pain disorders, he also performs both office and fluoroscopic peripheral joint injections.
His philosophy is treating the whole patient. He has a multidimensional treatment plan which focuses on reducing pain while improving functional ability which enhances the quality of life.
The following are just a few of the conditions treated:
Cervical & Lumbar Radiculopathy
Chronic regional pain syndrome
Coccydynia (tailbone pain)
Degenerative Disc Disease
Facet Joint Syndrome (Arthritis)
Facial Pain
Failed Back Surgery
Herniated Discs
Join Pain
Migraine Headaches
Myofascial Pain Syndrome
Pain from Multiple Sclerosis
Painful Neuropathy